Discount Home Mold IR Building Inspection in Tampa Saint Petersburg
Discount Home Inspection can save homeowner $30,000 on life of loan?
Are Florida residents paying over $30,000 too much for homeowners insurance over life of loan?
Insurance companies are charging homeowners for wind storm coverage on homes that qualify for wind mitigation deduction. Most home owners over pay at least $1000 a year . Affordable Home Inspection of Tampa Inc goes the extra mile to help homeowners .
Tampa Affordable Home, Mold, IR Building Inspections
Visit Affordable Home Inspection of Tampa Inc.
FOR IMMEDIATE RELEASE
PRLog (Press Release) – Nov 02, 2009 – Insurance companies do not automatically apply wind mitigation discounts even on new homes that are, by law, built to the new standards. Homeowners MUST tell their home inspector to certify the home even on new homes that are built to the latest standards.
Over 50% of homes purchased in Florida DO NO REQUIRE an inspection for the sale to take place. The insurance costs are usually included in the homeowners mortgage so, the homeowners are under the impression that the cost of the insurance is correct. Insurance companies are more than happy to take the extra money from the homeowner! A simple, inexpensive inspection can easily save a homeowner $30,000 in insurance costs on a 30 year loan. How do these lost dollars usually escape the most frugal, budget minded homeowner?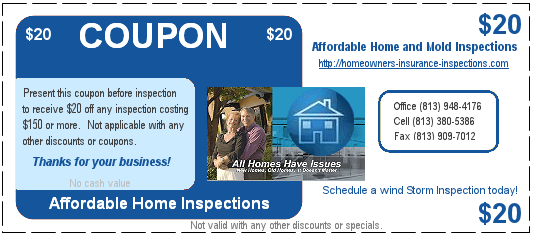 Typical savings on the policy are 45% off your homeowners insurance. In most cases, that is enough money for a cruise to the Bahamas for two, every year!
Mr. Steve Whallen of Affordable Home Inspection of Tampa Bay, Inc.: "People just don't know how much they are overpaying each year. Over $1000 a year savings is quite typical. While going through our customer testimonials for our webmaster, we discovered that we have saved local homeowners over TWO MILLION dollars in insurance premiums."
So, what qualifies for an Windstorm Mitigation Insurance Discount?
Many existing houses have one or more of these wind mitigation construction features and may qualify for some wind insurance discounts. In addition, houses built after 1994 in Miami-Dade or Broward Counties and houses built after 2002 in the rest of the state generally have many wind mitigation construction features and will likely qualify for significant wind mitigation discount credits.
A. Roof coverings, such as shingles that meet the FBC Requirements.
B. Roof decks that have been installed with large nails and close spacing.
C. Hurricane clips/straps that hold the roof structure to the walls.
D. Protection of Openings such as windows and glass doors with impact resistant glazing or other protection systems.
E. Secondary Water Resistance that prevents the roof from leaking if the roof covering is blown off in a windstorm.
F. Newly Constructed Homes built to the Florida Building Code since March 1, 2002
G. Homes built to the South Florida Building Code in Miami-Dade and Broward Counties after 1994.
Please note that insurance companies may have more features that qualify for wind mitigation credits such as doors and gable end bracing.
Inspector Steve Whallen at Affordable Home Inspection of Tampa Bay Inc. http://www.homeowners-insurance-inspections.com has been informing people about their potential insurance over payments for over 8 years.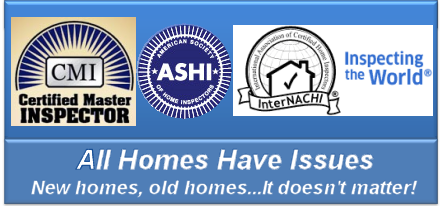 Florida's property insurance companies were the first in the nation to offer incentives for wind mitigation techniques that are based on individual features.2 Florida's statutes have required insurance providers to "incentivize" wind mitigation practices which are shown to reduce property loss caused by windstorms since 1994. The amount of the incentive varies according to risk associated with the geographical location, building materials, and construction methods of each home as well as actuarial data from individual insurance companies. Within this established regulatory framework, there appears to be great
opportunity for recognition of both new and retrofit applications of adhesives for increasing the uplift resistance of roof sheathing to roof framing, especially if previous and future tests can be used to substantiate the increased structural integrity provided by this application.
Other Gulf Coast States lag behind Florida, but there is clearly growing regional interest in establishing programs which will give homeowners and builders incentives to apply mitigation techniques. Depending on each state's regulatory framework, such programs may be optional or insurers may be required to offer mitigation incentives. 2 "Florida Hurricane Loss Mitigation Program Report to the Florida Legislature". Florida Department of Community Affairs. Jan 2002. Accessed 7 Nov 2006.
The fact is, spending a couple hundred dollars on an inspection can save you thousands of dollars over the lifetime of your loan. The inspection can in fact, pay for itself in just a couple months.
Florida residents should consider contacting a Steve Whallen at: http://homeowners-insurance-inspections.com and get some straight talk about whether or not they should schedule an inspection.
# # #
Steven A. Whallen is a Board Certified Master Inspector with over 3,000 inspections since 2004. A member of the Wire Grass American Society of Home Inspectors [ASHI] and The International Association of Certified Home Inspectors (Inter-NACHI). Steve is Infrared Camera Certified & Certified Mold Assessor. A member of the local Realtor Associations. A five year member of the Carrollwood Area Business Association [CABA].